Spring Brown Bag Lunch Concert Series Lineup Announced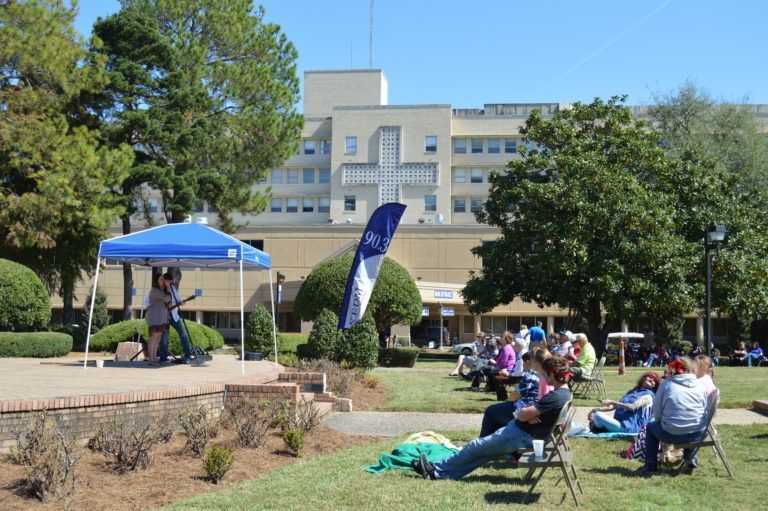 The Northeast Louisiana Arts Council will host its free Brown Bag Lunch Concert Series each Wednesday at noon in April at the Anna Gray Noe Park in downtown Monroe between St. Francis Medical Center and the courthouse. Performances include:
April 3 – Jordan and Stacy Sheppard
Husband and wife duo Jordan and Stacey Sheppard have been playing all over the southeast since 2008. Inspired by many different artists and genres, their sound is a blend of country, soul, blues, and rock 'n roll. They have both been nominated multiple times for local music awards, and today you'll see why! Come on down and catch today's Series launch.
April 10 – Mason Granade
A long-time Series favorite, Mason has been performing for over thirty years and is a regular at such diverse venues as regional cafes and night spots and as Worship Leader at Bethel Baptist Church in West Monroe. If your playlist includes Eagles, America, and the Beatles, Mason's your guy! You may also have heard his popular album recorded with Matthews-Granade on the radio or in R-Squared movies, "New Hope" and "Flag of My Father," where he even had a cameo! Sneak a listen online at www.masongranade.com, then join us for this rocking spin to the Series!
April 17 – Mike McKenzie
An opener for Tim McGraw, T Graham Brown, and Bryan White will rock out our Series with his own unique style. Mike McKenzie is one of the busiest performers in the region, something he's been doing since he was a kid, playing everyone's favorite country, classic rock, and funk. Mike's appearances are always fun and entertaining, and we're excited to continue the Series with this local legend!
April 24 – Rod Payne and Lisa Spann
The Series ends strong with two local fan (and Series) favorites — Rod Payne and Lisa Spann. Rod is one of our area's most visible musicians! He's kept generations on the dance floor with show tunes, old standards, easy listening, and more. He's excited to be joined today by frequent partner Lisa Spann, whose talent as a vocalist makes every performance fresh and fun. What a great way to wrap up the Series and help spring forward into the new season!
About the Northeast Louisiana Arts Council
The Arts Council of Northeast Louisiana seeks to nurture a vibrant regional arts culture through support, promotion and education. The Arts Council of Northeast Louisiana strives to be a transformative force for the community by encouraging a passion for the arts, promoting partnerships and collaboration, and ensuring access to the arts for all.