Spring Brown Bag Lunch Concert Series Lineup Announced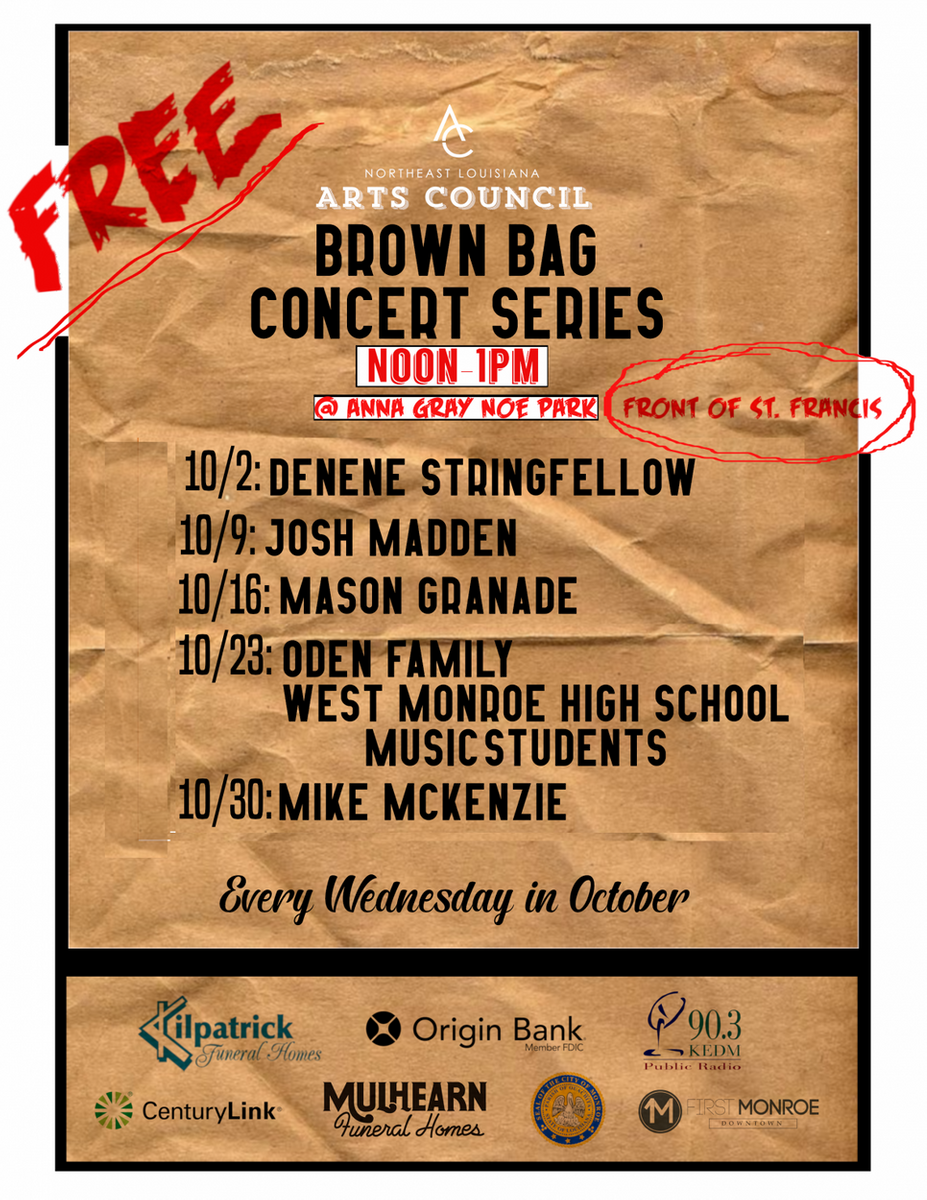 FOR IMMEDIATE RELEASE: Arts Council hosting five free concerts in October
The Arts Council of Northeast Louisiana once again presents its free Brown Bag Lunch Concert Series at noon on Wednesdays this October at Anna Gray Noe Park in downtown Monroe. The public is invited to pack a lunch and picnic with friends while enjoying some of the best musical talent in the area. The October Brown Bag Lunch Concert Series lineup includes:
October 2 – Denene Stringfellow
Life your spirits today! A little gospel, a few show tunes, and everything in between! Come see area favorite and Ruston's own, Denene Stringfellow! You'll see why Ruston observes Denene Stringfellow Day each year. He's back by popular demand – – a great way to launch the series and season.
October 9 – Josh Madden
Host of KEDM's The Set List, Madden performs at local venues and teaches both guitar and piano to budding musicians. His musical influences are Ray Charles, Elton John, Eric Clapton, and Dave Matthews. He brings those flavors and more to the park and series.
October 16 – Mason Granade
A long-time series favorite, Mason has performed in the area for over 30 years while also serving as the Worship Leader for Bethel Baptist Church in West Monroe. He is influenced by The Eagles, America, and The Beatles. Mason was featured in R-Squared films New Hope and Flag of My Father.
October 23 – Oden Family and West Monroe High School music students
Husband-wife duo, Greg and Kristen Oden, both music educators at West Monroe High School, have individually and with their students been showcased in distant cathedrals and in Carnegie Hall. Come hear them, their children Blake and Morgan, and their students as they energize your day.
October 30 – Mike McKenzie
An opener for Tim McGraw, T Graham Brown, and Bryan White will rock out our Series with his own unique style. Mike McKenzie is one of the busiest performers in the region, something he's been doing since he was a kid, playing everyone's favorite country, classic rock, and funk. Mike's appearances are always fun and entertaining, and we're excited to continue the Series with this local legend!
In case of rain, Brown Bag will be moved to First Baptist Church of Monroe. Brown Bag is sponsored by CenturyLink, KEDM, Origin Bank, and the City of Monroe. Complimentary cookies are provided by Mulhearn Corporation. Kilpatrick's is providing a tent to keep the musicians cool and in the shade. Water and lemonade are provided by First Baptist Church.
About the Northeast Louisiana Arts Council: The Arts Council of Northeast Louisiana seeks to nurture a vibrant regional arts culture through support, promotion and education. The Arts Council of Northeast Louisiana strives to be a transformative force for the community by encouraging a passion for the arts, promoting partnerships and collaboration, and ensuring access to the arts for all. Activities of the Arts Council are supported by a grant from the Louisiana Division of the Arts, Office of Cultural Development, Department of Culture, Recreation and Tourism, in cooperation with the Louisiana State Arts Council. Funding has also been provided by the National Endowment for the Arts, Art Works.