Brown Bag Concert West Monroe - Featuring Jade Reynolds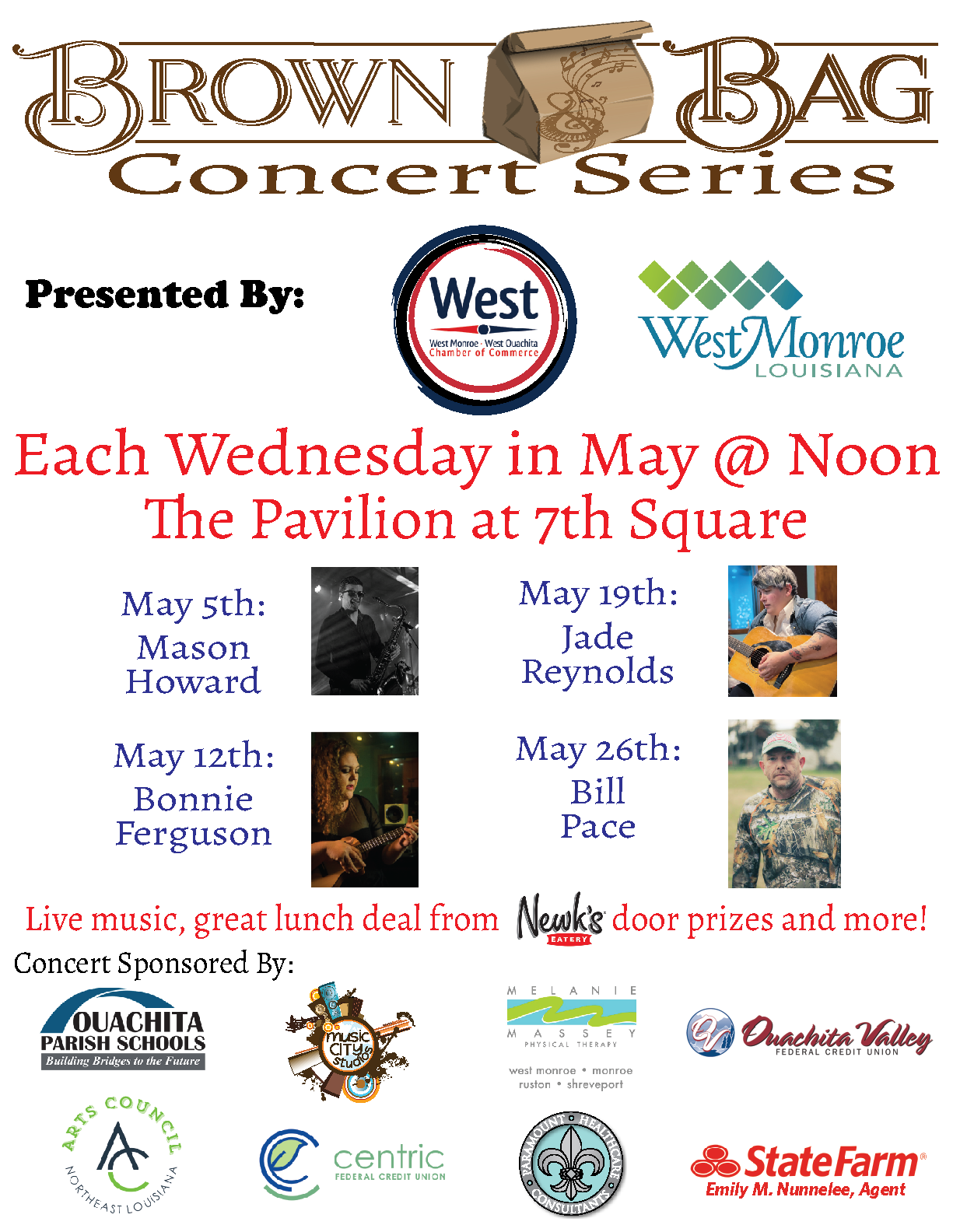 The third concert will be held Wednesday May 19th and feature the talented youth of Jade Reynolds. Jade Reynolds sound casts a unique spell on any audience. With distinctive Delta Blues influences, her sultry voice grabs you by the ears and catapults you into the dirty south. She delivers her own unique take on many old favorites from Johnny Cash, Kenny Rogers, Loretta Lynn and more!
Brown Bag Lunch Concerts are held every Wednesday in May from noon to 1 p.m. at the Pavilion at Seventh Square in West Monroe, located directly behind the West Monroe Farmer's Market.
The West Monroe Brown Bag Lunch Concert Series is presented by WMWO Chamber of Commerce and the City of West Monroe in partnership with Centric Federal Credit Union, Emily Nunnelee State Farm, Ouachita Valley Federal Credit Union, Paramount Healthcare Consultants, The Northeast Louisiana Arts Council, Newk's Eatery, Melanie Massey Physical Therapy, and the Ouachita Parish School System. Artists coordinated by Music City Studios – Northeast Louisiana's Premier Recording Studio.
The concerts are free to the general public. Newk's Eatery will be selling $5 bagged lunches on site which include a half sandwich, bag of chips and half dessert. Lunches are sold on a first come, first served basis. Attendees may also bring a brown bag lunch while they enjoy various musical performances. Chairs and complimentary beverages and desserts will be provided by the sponsors. The Brown Bag Lunch Concert Series will continue with a fall series on Wednesdays in September.
For more information about the concert series, please call the WMWO Chamber of Commerce at (318) 325-1961 or online at www.westmonroechamber.org.