64 Parishes Publication Party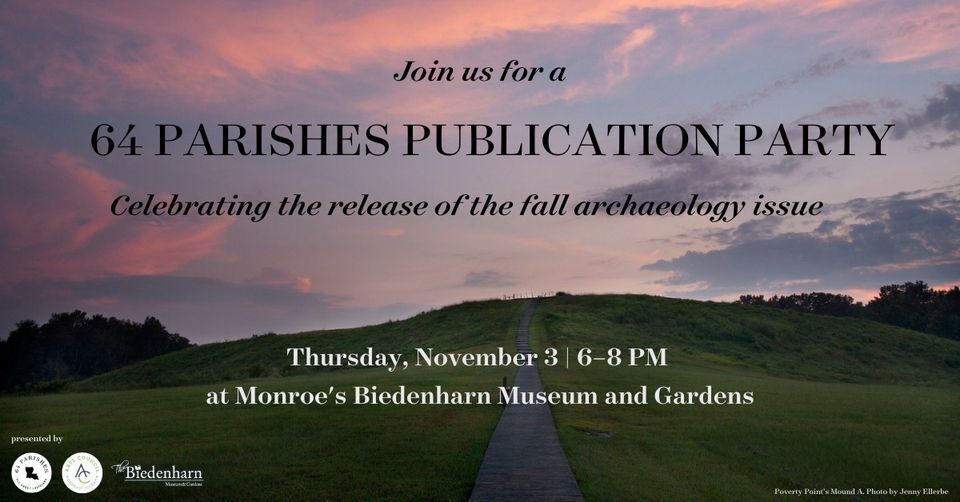 Join us for the first 64 Parishes publication party since 2019 as we celebrate the launch of the fall archaeology issue in Monroe with the Northeast Louisiana Arts Council and Biedenharn Museum and Gardens. We'll have complimentary copies of the issue, food, and drinks, including beer from Flying Tiger Brewery, and hear "Ways of Seeing Poverty Point," a conversation about Poverty Point as an informative archaeological site and a powerful symbol of Native American history.
The panel will be led by 64 Parishes Managing Editor Chris Turner-Neal and include:
>Diana M. Greenlee is the station archaeologist at Poverty Point World Heritage Site and an adjunct professor of archaeology at the University of Louisiana at Monroe.
>Jennifer Reeser, a member of the Cherokee Nation, is a poet and translator whose wide body of work includes several poems inspired by the Poverty Point site.
>Jenny Ellerbe is a photographer who has captured images of the Poverty Point site for years; with Greenlee, she is the author of Poverty Point: Revealing the Forgotten City.
This event is free and open to the public; no registration necessary.