Part of our mission is providing opportunity and access for those within the Region 8 arts community. We do that through a variety of resources and we are constantly looking for ways to grow those resources. If you as an artist have access to a resource we can share with the rest of Region 8, please contact us using the form below!
---
ARTIST RESOURCES
From juried shows and art festivals to public art commissions and residencies to workshops and grants, it can be hard to know where to search. We're doing the work and narrowing that down for our artists in Region 8 by finding the opportunities for you within our region, within our state and beyond! Set up your FREE profile today so you can stay in the know on all the latest opportunities for YOU!

The Lunch & Learn series is part of the Arts Council's "Arts As Business" programing, intended to equip artists and arts organizations with skills and resources that will help take their endeavors to the next level. Lunch & Learn meetups are "brown bag" style interactive presentations on various topics, including public relations, grant writing, grant preparation, income taxes, approaching museums and galleries, and much more.

We partner with the state of Louisiana and with the City of Monroe to facilitate two grants annually, The Louisiana Projects Grant and The Monroe! Mini Grant. You can find out more about each of these grants on our Grants page by clicking above!
---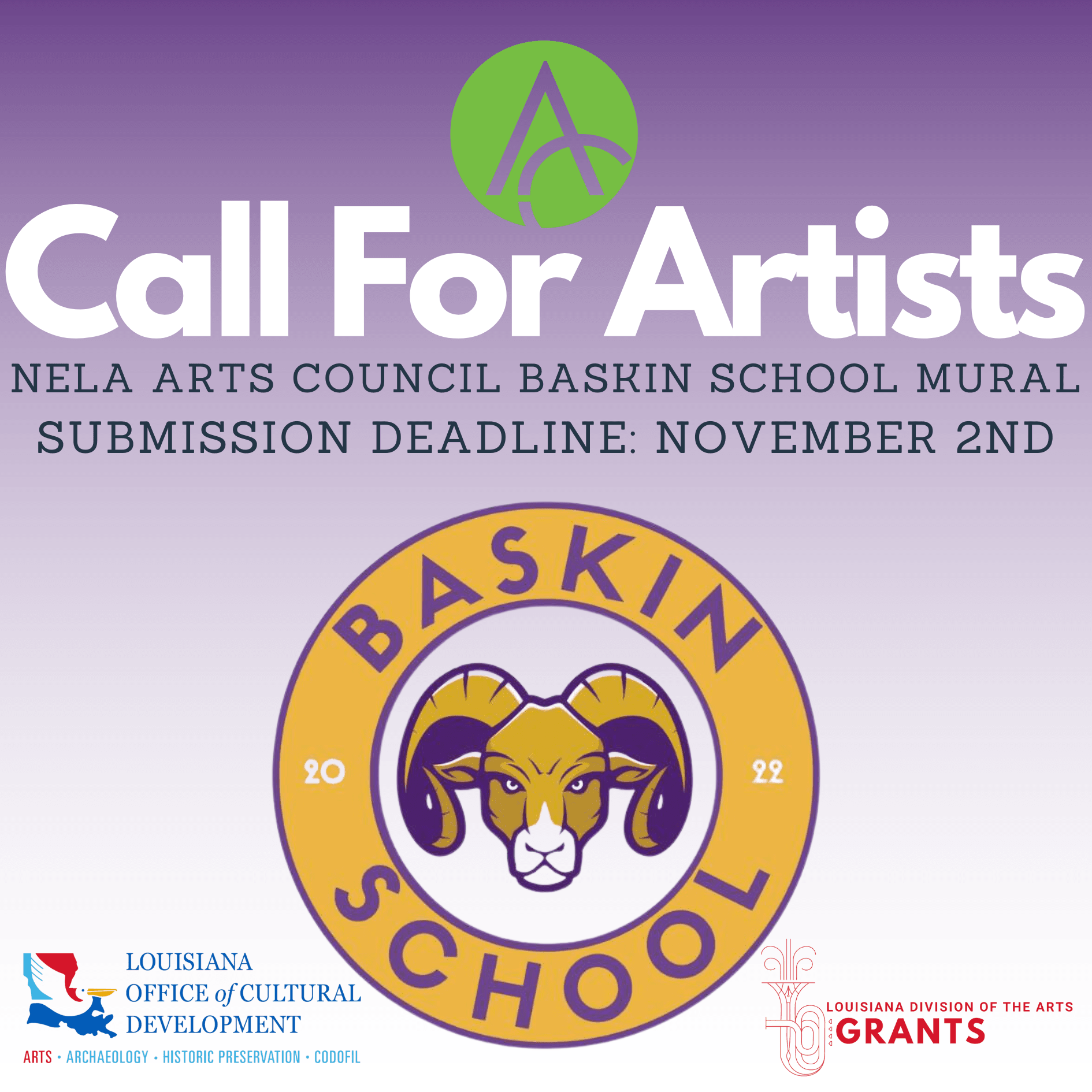 The Northeast Louisiana Arts Council is seeking proposals from qualified Region 8 artists or arts organizations with relevant experience designing and managing the installation of themed murals or abstract design to exterior building walls, as well as experience in engaging community members in the installation process. The mural will be installed on the campus of Baskin School in Baskin, Louisiana. Baskin School serves 298 underserved Franklin Parish students. The Northeast Louisiana Arts Council looks forward to seeing these students and their local community engaging with this process that will not only bring much needed public art access to the village of Baskin, but also give Baskin School students access to the process and experience of creating public art.
Entry Deadline: November 10, 2023 @ 11PM
Supported in part by a grant from the Louisiana Division of the Arts, Office of Cultural Development, Department of Culture, Recreation & Tourism, in cooperation with the Louisiana State Arts Council and the National Endowment for the Arts, a federal agency.
---
APPLICATION (please read the Guidelines above before submitting)