---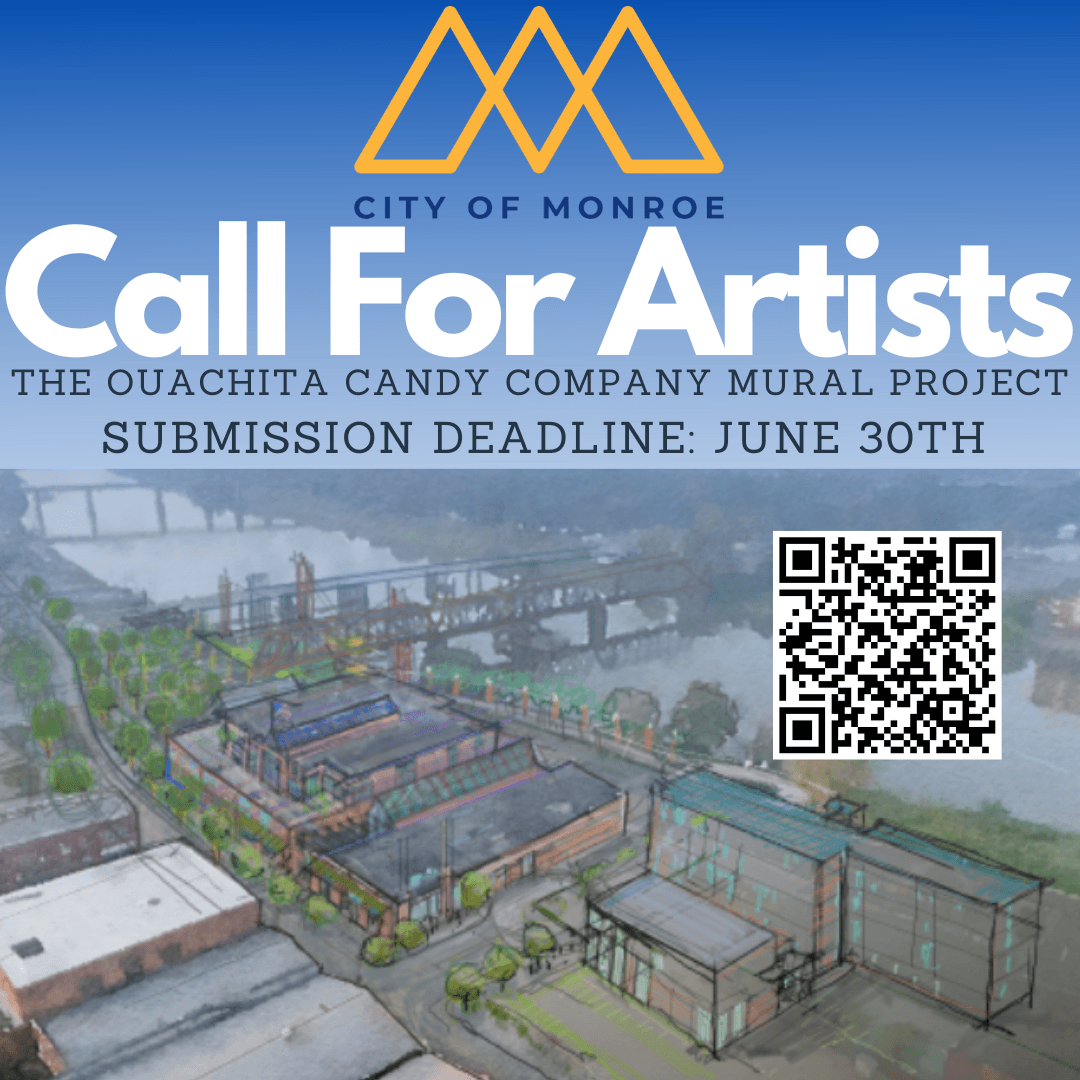 APPLICATION CLOSED - City of Monroe Ouachita Candy Company Mural Project
Contact Email: Kelsea.Mccrary@ci.monroe.la.us
Call Type: Public Art
Eligibility: Local
State: Louisiana
Entry Deadline:  June 30th
Project Deadline: August 15th
Total Budget: $15,000, breakdown below
 
REQUIREMENTS:
Media
Images - Minimum: 6, Maximum: 6
Video - Minimum: 0, Maximum: 3
Total Media - Minimum: 6, Maximum: 9
Overview
Murals painted by local artists on 8 metal panels on the front of the Ouachita Candy Company, focusing on the themes of: Ouachita river/waterways, the concept of home, an element of Northeast LA such as commerce, animal/plant life, contributions to local, regional, state, national or global history, interpretation of the building's architecture, and other topics as vetted by the Economic Development team during discussions with selected artists.

Budget
This project will beautify the Candy Company building while it is in the process of being redeveloped and will turn the plain red metal panels into art pieces that can be installed in the building once it's revitalized or moved around the City in public spaces.
A total of 8 mural designs will be selected for this project will be divided into two categories:
-   Teaching Artist: this proposal option, submitted to the overall artist call, consists of a Teaching Artist that selects another artist from the community to collaborate on the panel, either through design and execution or just execution. The purpose of this category is to teach the art and process of public art, using four of the metal panels. The compensation for the four Teaching Artist panels will be $2,000 per panel, with the Teaching Artist receiving $1,250 and the community artist receiving $750. There will also be an allowance of up to $250 included per panel for supplies. This category will be capped at a max of four panels.
-  Individual Artists/Artist Group: the other category of panel proposal submissions will be painted by individual artists or groups of artists. The compensation for this category of panels will be $1,250 per panel. There will also be an allowance of up to $250 included per panel for supplies.
Scope of Work
The development and design for the artwork should:
-   Consider the elements of the site as a source of design ideas.
-   Consider the facility and the area(s) surrounding the artwork and their intended uses as described in this call.
-   Reflect Monroe's history, diversity and cultural profile.
-   Represent Monroe's vision of transformation and growth.
-   Be durable for the climate conditions, resistant to UV damage, and safe for public interaction.
Panel dimensions (see numbered panel photo for reference) are as follows:
Panel 1 – 13'8"w x 8'h
Panel 2 – 10'4"w x 8'h
Panel 3 – 13'10"w x 8'h
Panel 4 – 13'10"w x 7'9"h
Panel 5 – 13'10"w x 8'h
Panel 6 – 13'8"w x 8'h
Panel 7 – 23'w x 8'h
Panel 8 – 23'w x 8'h
Selection Process & Evaluation Criteria
An Art Selection Committee (the Committee) may include (but is not limited to) representatives from the City of Monroe Economic Development Team, the Monroe Chamber of Commerce, the Northeast Louisiana Arts Council, the City Council, Discover Monroe-West Monroe, the Black Creatives Circle, and the Downtown Arts Alliance who will review all eligible artist submissions.

Submissions are evaluated by the following criteria:
-   Artistic excellence and originality as evidenced by the representations of past work images and other supporting materials.
-   Appropriateness of artist's medium, style, and previous experience as they relate to the project goals and setting.
-   Experience with projects of a similar scale and scope.
-   Ability to create site-specific or site-reactive works.
-   Availability to participate in the design and implementation of the project as required.
-   The committee may also take into consideration when selecting artists whether an artist is already represented in the city's public art collection.
Notifications and Proposals
Notifications will be issued in early July 2022. A full timeline will be provided to those artists who have been selected and a professional services agreement with the City of Monroe will be required.
Artists will be required to attend two (2) meetings: A site visit to meet with the Committee and to view the space, and the presentation of the artist's proposal before the Committee.
The proposal must include the concept, materials, size, installation requirements, details of maintenance, and budget. The proposal must also include renderings and the number of the corresponding panel from the image included in this call.
All proposal documents, including the renderings, will become property of the City of Monroe and will be used for educational and/or promotional purposes. Each artist's proposal and/or renderings may be exhibited for Committee and community consideration.
NOTE: "The City of Monroe and the Artist Selection Committee reserves the right to change, modify, or revise the Call to Artists, in part or whole, at any time before the submittal deadline without prior notice. Any change, modification or revision can be found https://nelaarts.org/our-focus/artist-opportunities.html. The City of Monroe and the Artist Selection Committee also reserve the right to reject any or all applications or proposals, to reject any artist, or to terminate the selection process for any project without prior notice."
Submission Requirements
A complete application includes the following:
-   Artist resume demonstrating a minimum of five (5) years of professional visual art experience (NOT STUDENT WORK). A biography will not be accepted in place of a resume.
-   Statement of interest describing:
1. Why you are interested in this project.
2. Previous experience with public art.
3. Your connection to (if any) or interest in Monroe.
4. How you believe the art will enhance the chosen space.
-   References that include the names and current contact information for three (3) individuals with whom you have worked, collaborated, or who have commissioned your work in the past. References will be contacted for artists invited to develop a proposal for the commission.
-   Images (6) of your original completed commissions, not proposals, which demonstrate your qualifications for the project. Sketches or drawings will not be accepted. You must include the title, medium, dimensions, project budget (price), year completed, location, and a description. The value must be indicated in US dollars. Each image must contain only one view of the work. Multiple images per commission/project or unexecuted conceptual projects will not be considered and may disqualify your submission.
-   OPTIONAL: Up to 3 videos of work examples.
This call for artists is open to professional artists 18 and over, regardless of race, color, religion, national origin, gender identification, military status, sexual orientation, marital status, or physical ability.
Examples of work submitted must be original, recently completed artwork (within the last 10 years).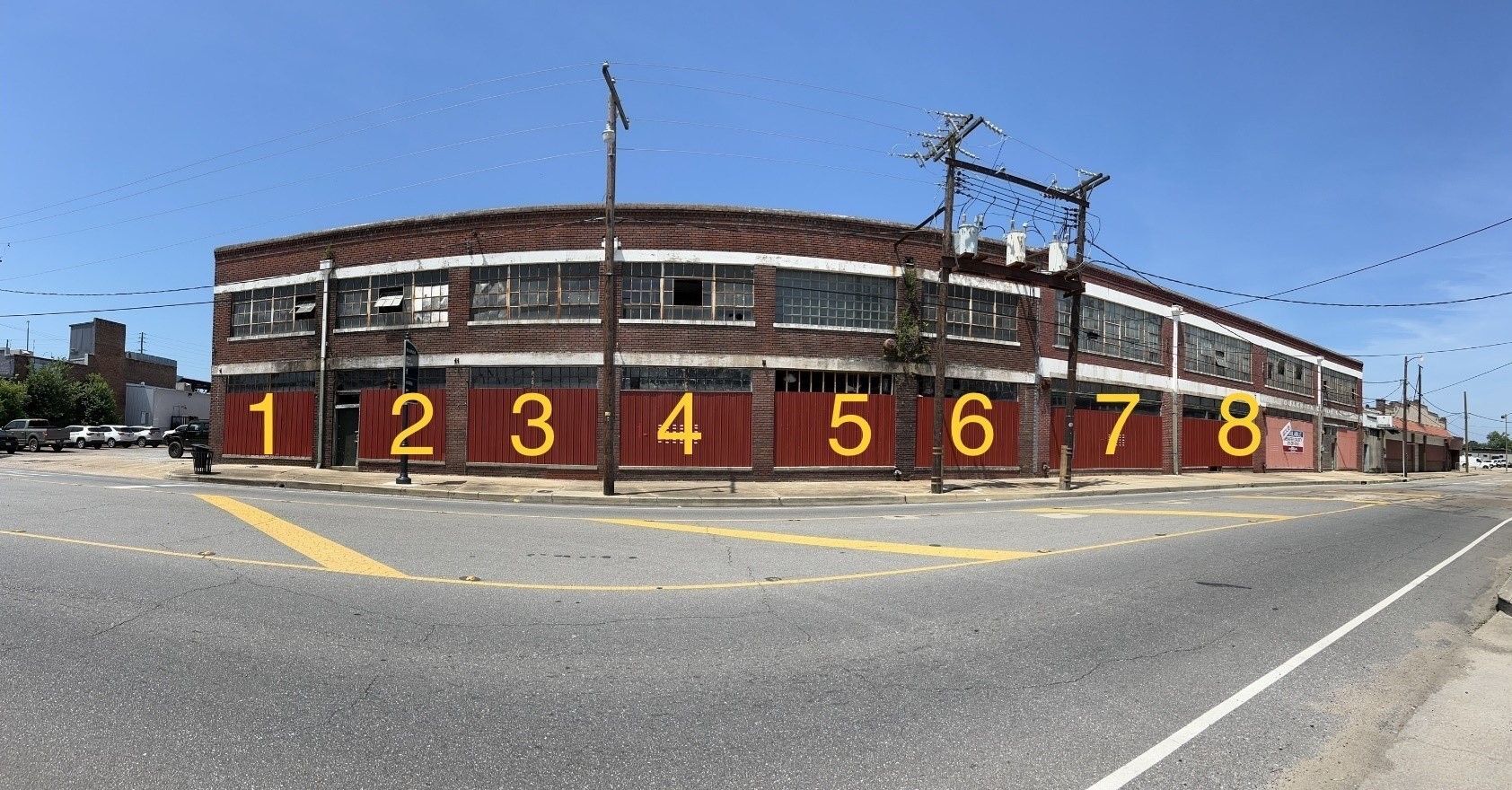 ---